xamoom is best known for mobile solutions in tourism and museums. The benefits have never been limited to these two industries, but we have significantly broadened the potential with a few new features: Vouchers, messaging and the upcoming forms open up completely new possibilities and industries.
Related Blogposts
So why not use an app for communities to give members added value and help them grow together? The Carinthian Economic Association (Wirtschaftsbund Kärnten, a group within the Chamber of Commerce) thought that in times of a pandemic this would be more important than ever. Initially, they only wanted to offer members exclusive vouchers – and not on paper, but digitally and with good usability.
This request came to us at the end of October 2020 and we replied: "Hey, you can do a lot, much more with our platform to offer member benefits and more." Work started at the beginning of November. In just one month, the team not only created all the content but also acquired several dozen voucher partners and brought the member database up to date for logging in to the app.
The iOS and Android apps were released at the beginning of December – a new record! Here is a short interview with the director of the Carinthian Economic Association, Sylvia Gstättner, about the requirements, the process, and the future of the project (in German):
Currently, the app (mobile Web (not yet configured) is supposed to help "Growing together" and to make an important contribution to strengthening the regional economy in southern Austria. In the future, however, they want even more: for example, starting e-commerce initiatives or supporting members in networking at events.
As inspiration for better networking among each other, we have created "touch & network" cards and made them available to their employees. They contain an NFC chip (every newer smartphone has NFC), but you could also use a QR code.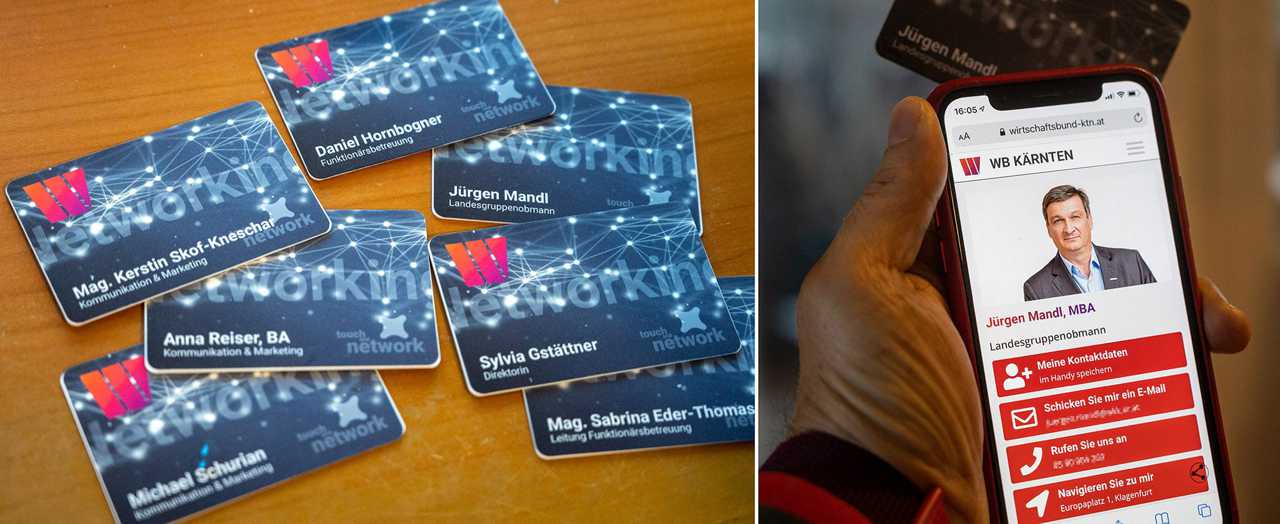 This is how it works: hold the card to the mobile phone and the other person has all the important contact information or links to profiles in social networks (Facebook, LinkedIn, Twitter, Instagram, ...), which can also be saved in the device with another click. It couldn't be easier!