Billions of people around the planet listen to and sing this song every year. For many, it is the essence of Christmas: a silent and holy night in the midst of our families. 2018 marks the 2OOth anniversary of the first public performance of the song, written by Franz Xaver Gruber and Joseph Mohr.
Since summer this occasion is celebrated in 13 of Silent Night locations in the three Austrian provinces where the song originated: SalzburgerLand, Upper Austria and Tyrol. There you can discover the song's magic and its origin story. You can dive into the history of and explore the many stories around the world-famous Christmas song. Countless special exhibitions and events are held at the various Silent Night museums for the anniversary year.
An app, NFC & iBeacons
This is all accompanied by technology to create a festive and contemporary anniversary at the same time. Smart labels with QR codes and NFC tags (invented in Austria as well) in various museums and around 300 other locations throughout the region as well as 100 iBeacons help spread the word and inform locals and tourists alike.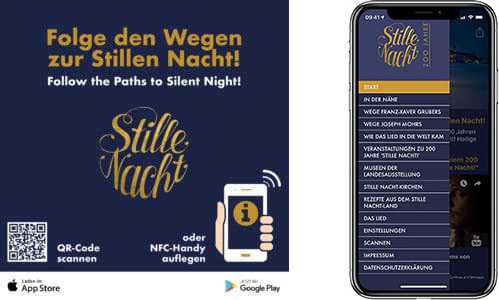 If you are not in Austria, an app for the 2OOth anniversary helps you to get in the right Christmas mood. It tells the story of the song as well as lets you share a message of peace on social networks. Each time you use it for a while, a part of the original song is unlocked and can listen to a performance in the song's birthplace, Oberndorf at Salzburg.
iPhone App 200 years Silent Night aniversaryThe app helps you to explore the picturesque villages, towns and other special places across the three provinces and lets you enjoy the Christmas period like never before.
Those who do not want to install apps can use the mobile web as well. Links to the app (available for iOS and Android) can be found at the mobile portal (m.stillenacht.com) or in Apple's App Store and Google's Play Store.
Customer: SalzburgerLand Tourismus
App and location CMS: xamoom
We from xamoom wish you a Merry Christmas and many silent and holy nights during the next weeks.