First Steps
A quick look around the xamoom CMS.
Everything you need to start is a username and password. To log on, go to xamoom.net.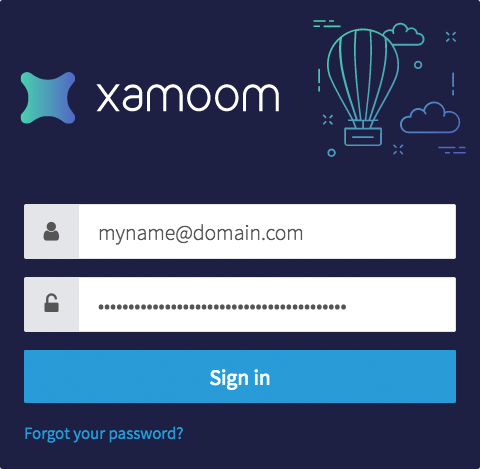 If you forgot your password, press the link at the bottom of the login screen and enter your email address. xamoom will send you a special link. After clicking on it, enter a new password. For security reasons, this link is only valid for the next 60 minutes.
You can always change your password by choosing the profile page.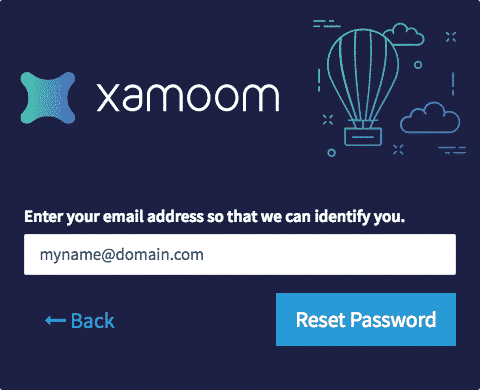 First tour and some settings
Navigating your way around is easy. After logging in, you are welcomed with a map that shows your headquarter, some settings, and navigational items. The main menu is on the left. At the top, you find links to more settings.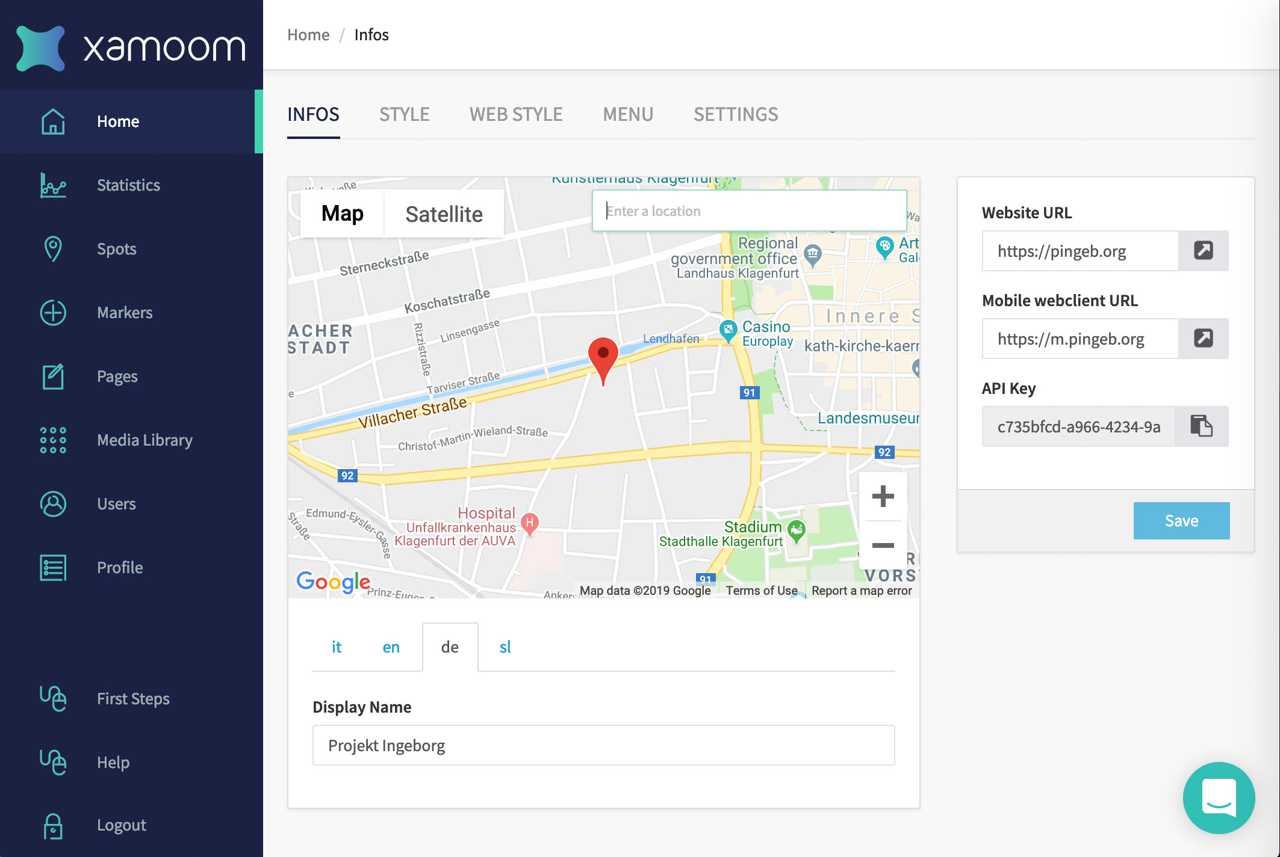 On the right side, you will find some configurations that determine the system's capabilities:
Enter your main Website's URL. If you do not want users on desktop computers to see your pages, we will redirect users to this URL.
The Mobile web client URL is needed for the base URL of markers. It might be m.yourname.com.
Developers use the API key for identifying the system in their program. It is used, e.g., for developing apps.

The settings
Features can be turned on or off at the settings panel. So why not have everything switched on? Because it might cause too much clutter in the content or spot editor, and not everybody needs every feature.
Turn on only those languages you want to use. You can add more languages later. The content delivery in xamoom takes the language of the user's phone into perspective. For example, if a German user comes along, he will get the content in German. If a Dutch-speaking user comes along and Dutch is not supported in this example, he will get served in the system's default language English (English), marked with a red asterisk.
Note: The system's default language must be decided and set upon system creation and cannot be changed later easily.
Enter your Google Tag Manager ID. GTM is a free tool from Google for marketing professionals.
If you use Google Tag Manager with an analytics service, you must activate the cookie warning for data privacy reasons. However, if you do not use GTM, it's your choice since xamoom only uses so-called single session cookies.
You can have administrators, regular users, and restricted users in your system. Restricted users have limited rights as they can only edit the spots and pages they are explicitly assigned to.
Custom metas allow developers of apps to create unique features.
You can use push notifications with your xamoom apps. In case you want to use this extra feature, please contact sales@xamoom.com.
Conditional content: xamoom allows you to offer multiple pages at one spot (using QR, NFC, or beacons) to provide the right content to the right person in the proper context.
Once social sharing is enabled, your system also has a desktop client and offers a share button on Android phones. This also includes a rudimentary desktop client.
In some apps and the mobile web, you may offer your users personalized recommendations. To do so, activate this toggle.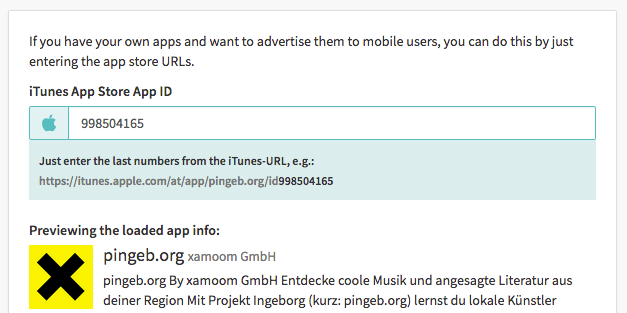 Your mobile portal can advertise your apps. If users surf on your mobile portal, they will be informed about the availability of apps with a link to the app store (Apple App Store and Google Play Store).
You can tweak your mobile web look just the way you like it. With a few clicks, you can customize ...
the logo in the upper left corner of the mobile web client (best: a square-shaped .png file),
the design of the map pin that show your locations on a map (best: width of 36 pixels) or
the CMS's logo displayed in the upper left corner of the CMS. This is used for white-labeling the CMS.
You can specify the colors using either hex values (e.g., #ffee00) or a color picker.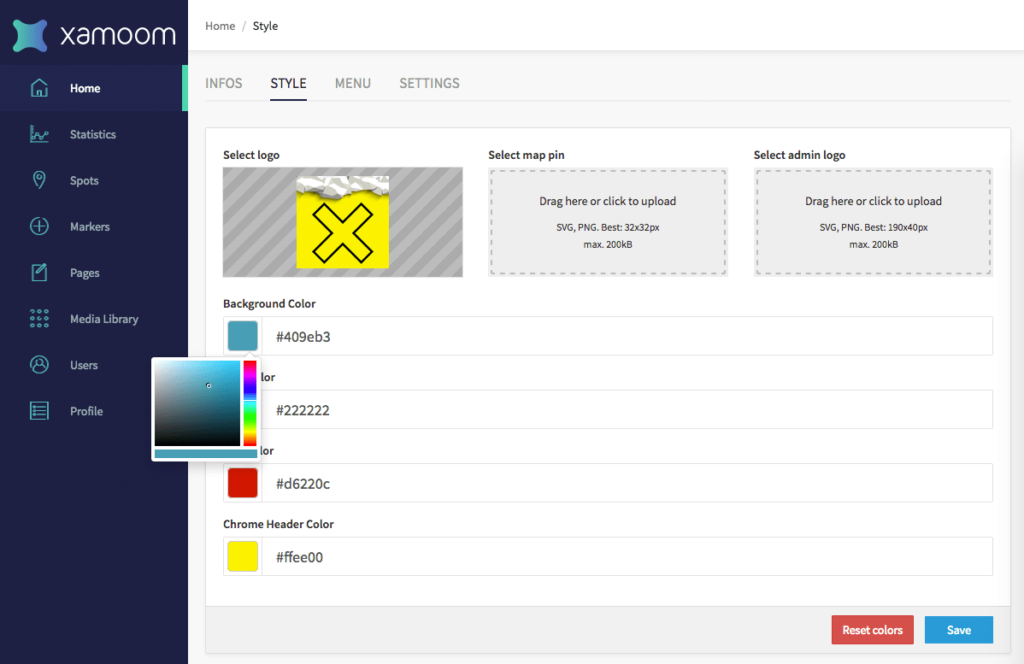 You can style any aspect of your mobile web portal using a technique called cascading style sheets (short: CSS).
Note: Systems without a dedicated domain name (running on the domain xm.gl) do not have a CSS editor.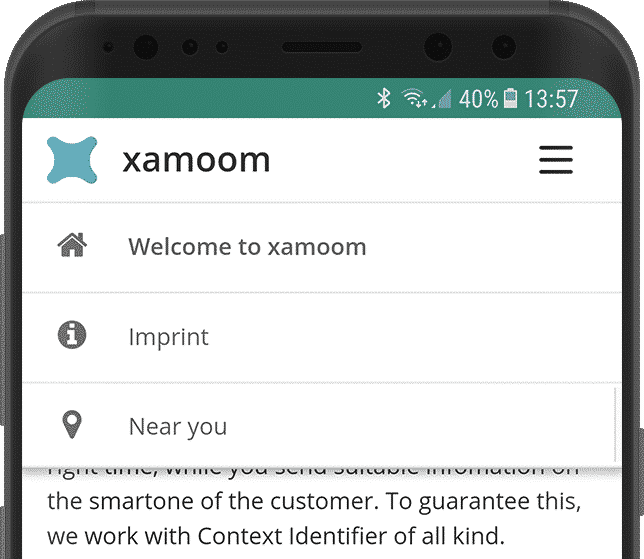 Just as every website, a mobile portal also needs clear navigation – displayed at the top right corner. Just tap on the burger icon, and the menu opens. Tap again or click on a link, and it disappears.
If there is no menu yet, there is also no burger menu.
You can find the menu settings at the top navigation bar. You can add any page you created to the menu using the search field below. With the triangles at the right, you can move the entries up and down. With the red X-icon, you remove a page from the menu.
If you have a self-hosted portal (e.g., m.yourdomain.com), you see a special menu element called Nearby. It opens a page called "Near You", displaying the closest locations to the end-user. You can turn this feature on or off using the toggle icon.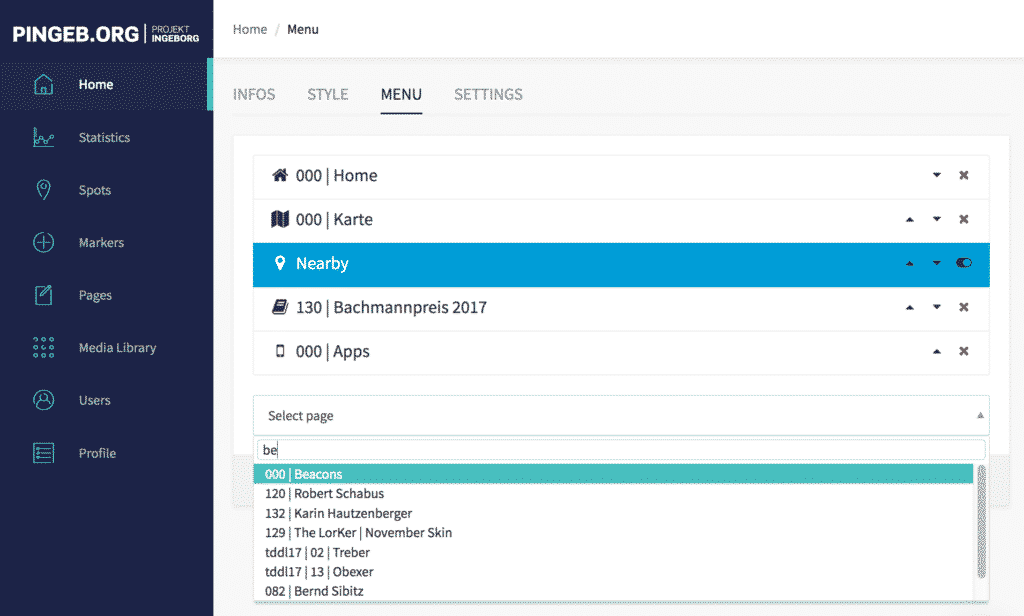 Note: Please, do not forget that every publicly available web offering needs an imprint and data privacy information. The menu is the perfect place to offer these pages.
Stats and analytics
Check the usage of your mobile system, learn more about your users, and fine-tune your content. In the statistics section, we show you a portion of usage data.
There is much more data we save that we can give you as raw data at any time. Additionally, you can use Google Analytics to track your traffic on the mobile web and in apps. Finally, via the integration of Google Tag Manager, you can also get insights from any other analytics and tracking service.
Note: By the beginning of 2022 we will deprecate the statistics page. It is just too hard for a small team like ours to keep statistics accurate and fast.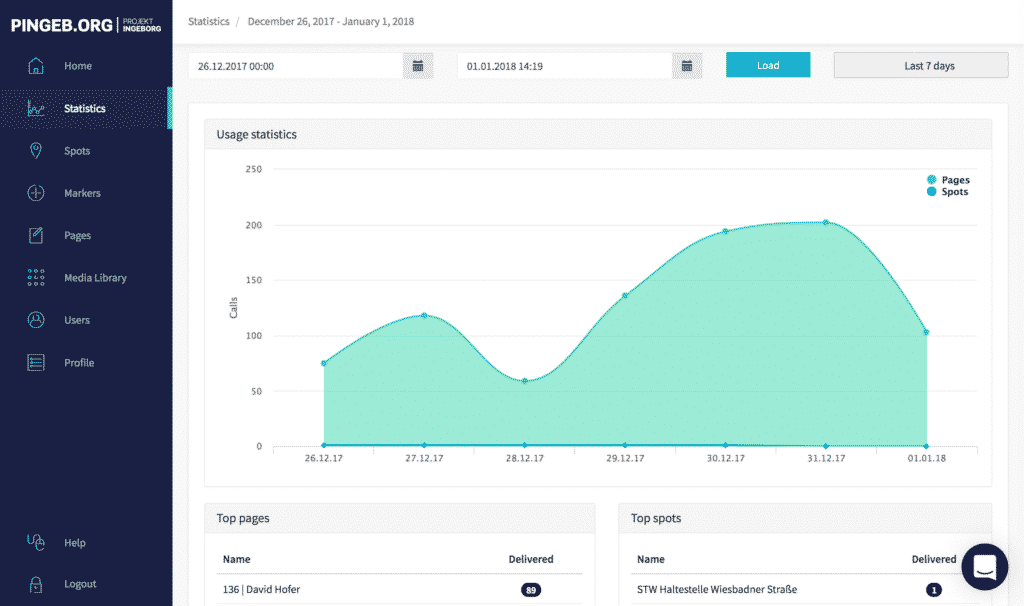 You can choose the period freely as you wish in the filter bar at the top. Loading longer periods can take a while due to the vast amounts of data.
At a glance, you can get a variety of information that helps you to improve your service:
Usage chart for pages and spots. You can switch between these metrics while clicking on either "Spots" or "Pages".
The top five pages and spots
Platforms: mobile web, apps, voice assistants
Operating systems: iOS, Android, etc.
Access technologies: QR, NFC, iBeacons, or GPS geofencing
Languages requested and delivered
Hovering over with the mouse can get you even more information.