Sweepstakes are an essential part of the marketing mix of many consumer goods companies. They increase brand loyalty, generate more sales, and provide consumers with moments of happiness that supercharge a brand.
But there are also a lot of challenges – mainly of logistical and organizational nature. Special instructions need to be printed on packaging or labels (where space is a luxury good anyway). Because it is hard to predict how long products circulate in stores, scheduling of the sweepstake is difficult to impossible.

Then there is abuse: sometimes it is possible to predict what packages win for customers. There are experts who only "pick the raisins" out of shelves, batches, and boxes that have before been sorted in manually to evenly distribute chances to win.

Finally, it would be desirable to be able to control when (at what time of day) and where (in which city or state) someone should be more likely to win.

An algorithm as the solution
xamoom uses URLs and IDs to identify objects. These make QR codes, NFC tags, or iBeacons dynamic. The content behind these can change manually or automatically according to rules. We use this principle to make sweepstakes much more manageable, less, expensive and more plannable than ever before.
Much can be improved by not printing tens of thousands of different codes, but putting the raffle on a single "code" (e.g., EAN/UPC barcode on a bottle or box). Advantage: It is for sure on every product sold. The winner is determined not by winning codes but by probability and other factors in the control of the marketer.

Such competitions always run according to this or a similar scheme.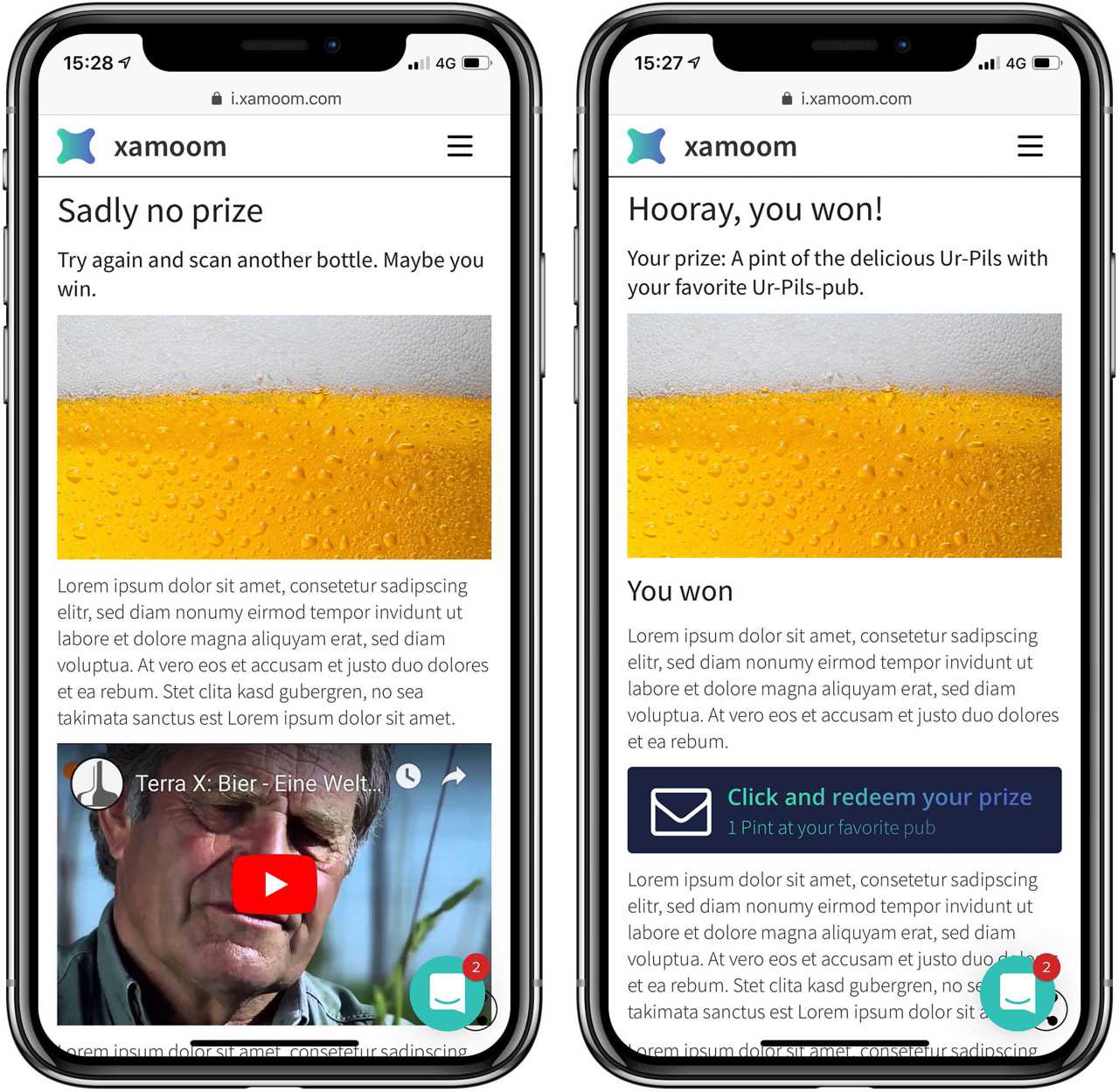 Then the product is set up in the CMS, and the number of the EAN/UPC-barcode is entered. What's missing then is a set of rules that makes up the raffle:
With what probability is the winning page or the non-winning page being displayed?
How often is the winning page being displayed? This determines the maximum number of prizes.
When does the raffle run? 24 hours a day or only at certain times (for example only in the morning or evening hours or on special days)?
Besides, it can be specified that the URL of the winning page can be forwarded (e.g., from one friend to another via WhatsApp), but the prize is not displayed to the recipient.
All it needs is the EAN/UPC barcode on the packaging (or any other machine-readable code). It identifies the product that qualifies for the raffle. Whether one wins, is decided by the rules mentioned above. These competitions can be announced at concise notice – via advertising, newsletters, or on social networks.

A sweepstake's parameters and rules can be changed in real-time while it runs. All of this works "out of the box" in the xamoom smart apps – without expensive development.


With custom specific developments or iBeacons here and there many other variants are possible:
Scan EAN/UPC barcodes not only via an app (integration of xamoom into existing apps is possible!) but also in the mobile web. The user must still call a URL (e.g., m.xyz.com) beforehand. An exception to this is the QR code, which can also lead straight to the competition page. For QR competitions no additional development is necessary.
You could influence the geographical distribution of winners.
Bonus points or higher probability of winning after visiting specific locations (e.g., retail stores or bars)
Instead of just displaying the prize, one can also "unlock" it with another mechanism – for example, to scratch it open with a finger on the display to increase the fun factor.
Prize distribution
The simplest way is to show the prize/voucher right after winning on the phone's display. This is only in very few situations a solution since the winner needs to go back and find the voucher at a later moment.

Better would be a combination with an email automation software. The workflow would look like this: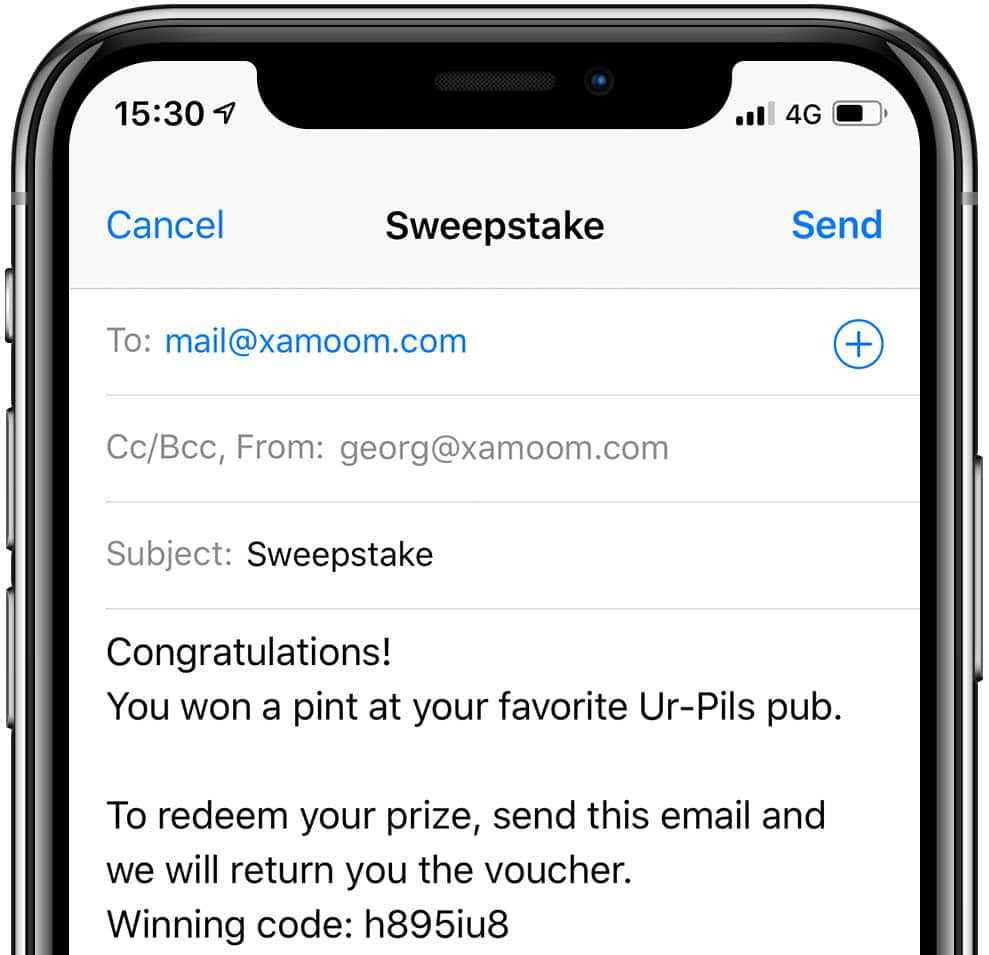 The winner sees the winning page
On this page, there is a winner's link which the user clicks. That generates a winner's email that automatically contains the winner's name and email address (from the phone's settings). Thus, there is no need for a painful form.
Part of the winner's email is a code (see the example on the right: h895iu8) that prevents fraud while redeeming the prize.

The app replaces the place holder with a unique winning code that is sent with the email.
If the code fits the campaign's algorithm and has not yet been redeemed the winner gets the voucher via the reply.
Is the winning code wrong, the sender gets an appropriate note.
Since the winning code matches a specific campaign, a success controlling is possible at any time.

Get started today
Such competitions are feasible on every product packaging – even if they are millionfold out in the market. But xamoom enables not only sweepstakes.

Communication for customer success (e.g., multimedia and multilingual product manuals)
Storytelling for higher brand loyalty
Up- and cross-selling or links to webshops for consumables
Recipes or instructions for use
Product blogs with news for a specific product
Regulatory notes like a product recall or nutrition facts
You can test xamoom for free for 30 days. Just go to xamoom.com/demo and order your trial access. We are happy to show you how to get the most out of sweepstakes.