Who among us doesn't like to get a bargain? How often is a purchase decision quickly saved by a small discount? And how often have we bought something just because it seemed cheap to us?
There is no question that vouchers and discounts work. A study shows: Almost 40 percent of consumers choose shops explicitly because they give them coupons or discounts.
The success factors of vouchers are …
the fun of hunting for bargains,
the serious reputation of the provider,
price advantage and save money as well
an uncomplicated redemption.
In the vast majority of cases, vouchers are still analog, printed on paper. Customers forget or lose them before they can redeem them and controlling is not easy. xamoom changes all that: We are mobilizing vouchers and ensuring a great experience for consumers as well as comprehensible controlling for coupon providers.
Digital vouchers can also be activated or deactivated at any time. If a bar is already full, vouchers should not increase frequency further. With xamoom, this activation takes place either manually with two mouse clicks or automatically via predefined rules.
The voucher in the app
Every page in xamoom can easily be turned into a voucher. To do this, press the switch "This content is a voucher" and enter a voucher code of your choice.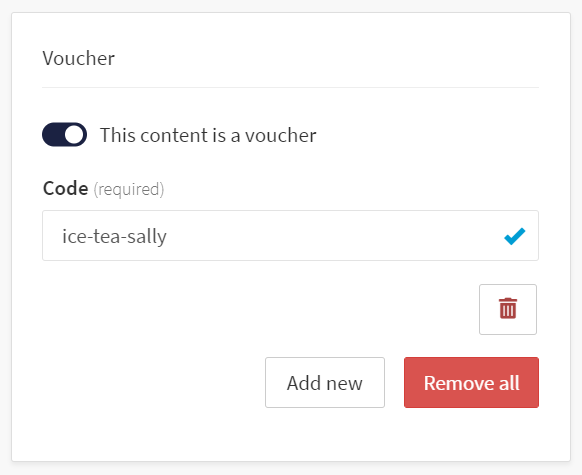 The voucher code is then written to a machine-readable form: NFC tag, barcode, QR code, data matrix, etc. This redeemable chip (we are happy to create them for our customers) is then distributed to the staff.

Every voucher page needs a tag (in this case "x-voucher"). That's it, the voucher is ready and can be advertised – offline and online.
Simple redemption for the customer
From the customer's point of view, the process couldn't be easier. On the offer page (access via the start screen, iBeacon, QR code, push message, etc.), users see a description of the voucher image and a "Redeem voucher" button. If this is pressed, you have the choice between the camera (QR, barcode, DataMatrix, etc.) and NFC scanner. We recommend both techniques, as NFC makes it easy to redeem coupons even in poor lighting conditions.
If the coupon is hit by the matching redemption chip, a success message appears with a thank you. The voucher is now displayed as "redeemed".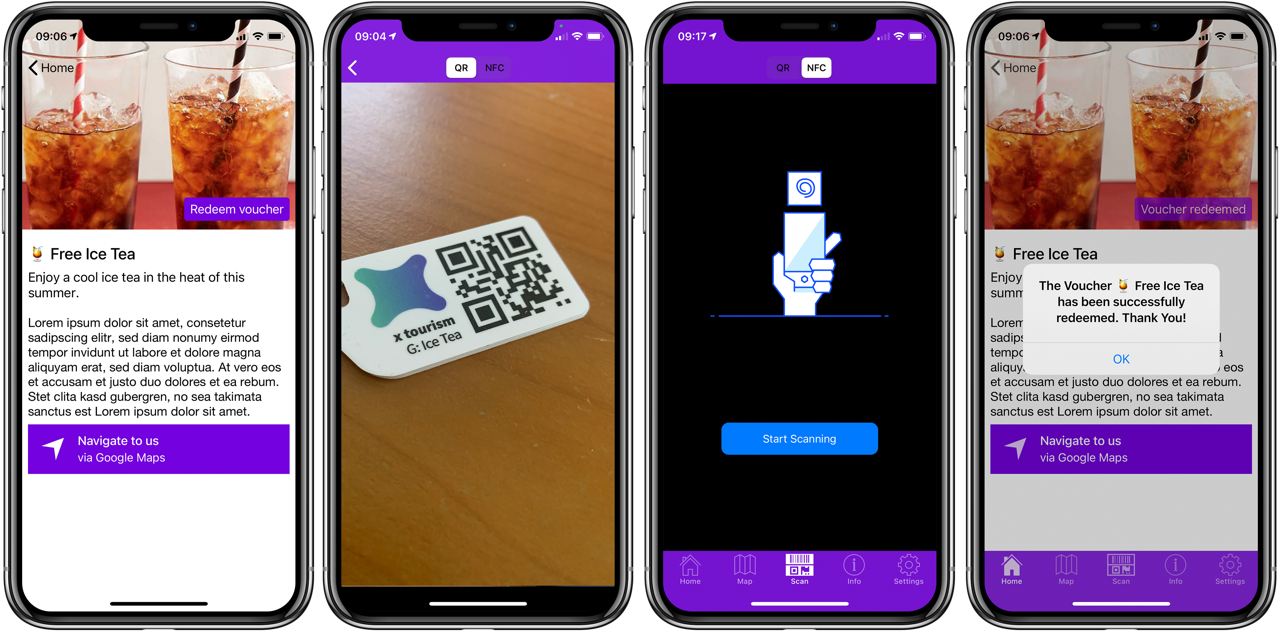 Effective controlling
It is not only important for the operator that the voucher is used – i.e. that it leads to a measurable increase in visitors or guests. There must also be no abuse. For example, a waiter could claim to have redeemed hundreds of coffee vouchers and would therefore have significantly less money in the pocket.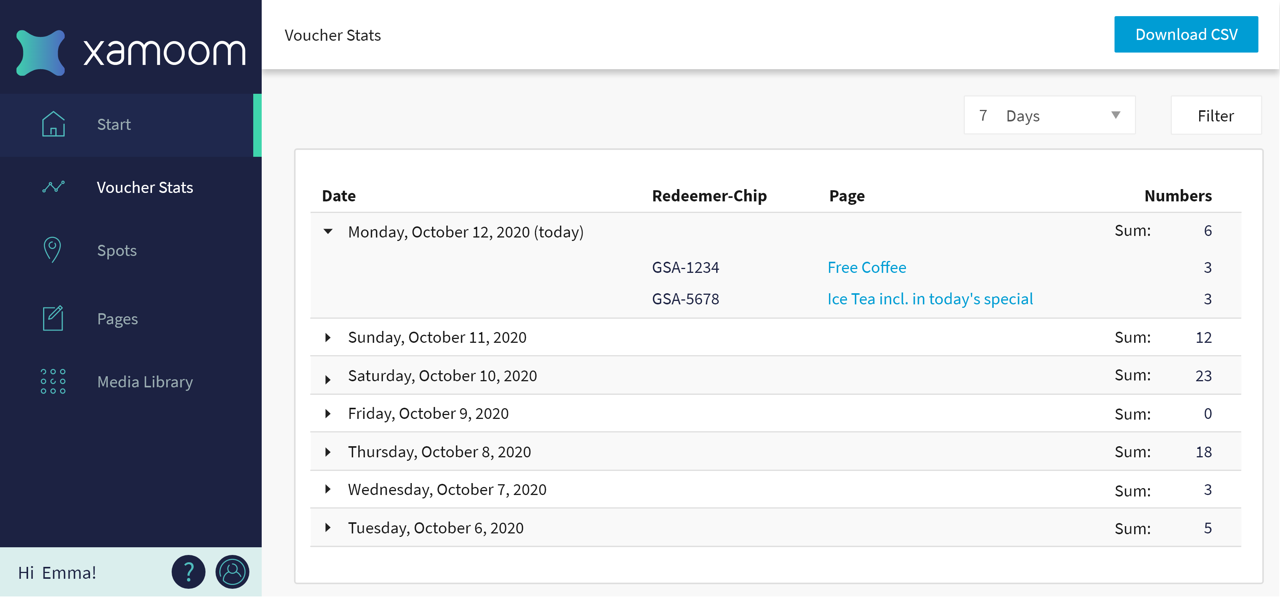 In order to ward off damage, there are redemption statistics in the xamoom CMS in real-time, which can also be retrieved on the smartphone. By the way: thanks to restricted users access, individual businesses (e.g. in the association of a city marketing or a tourist destination) can change their coupons or add new ones at any time in real-time.
Make conditions
Vouchers can also be linked to conditions in xamoom: For Lake Woerth, we have attached them to the availability of a valid guest card.
The fact that vouchers appear at all can be tied to rules with xamom's conditional content. Some examples would be:
reward loyal customers (x visits in the last y days)
vouchers only show up at certain times (when there is enough excess capacity)
sweepstakes and competitions
coupons only for app users and advertising for them on the mobile web
maximum number of voucher displays per day
More on dynamic marketing content
Available today
Start making your visitors happier and drive your revenue!


Our mobile vouchers are available now. Customers with smart apps can use this immediately. They can also be integrated manually in customer-specific apps – with a small monthly surcharge. Vouchers are currently not planned for the mobile web.